Dina Paolucci – founder, pianist, teacher, piano accompanist. Ms. Paolucci is a winner of many International piano competitions and a graduate of legendary Russian Gnessins`Music Academy in Moscow, Russia. After graduation Ms. Paolucci was accepted as a full scholarship student, and moved to the United States in order to pursue her Masters of Music degree at Eastman School of Music in Rochester, NY. In the last several years, Ms. Paolucci`s focus has been on music education. Today she is a founder of the Art of Piano Playing Music School and a proud faculty member at Mahanaim School of Music in Huntington, NY.
Masako is an active pianist, piano teacher and music educator. After completing her degree in
Education, she continued her study in NYU and CUNY-Brooklyn in Music and piano performance with Ursula Oppens. She gave numerous solo and ensemble performances and recordings in the city for last 18 years. Her work in 2013-14 season expand to about French composer Erik Satie and Claude Debussy as well as her classical contemporary repertoire.
She hopes to help her students develop their musicality and technical ability and enjoy playing music as a lifelong friend.
Roy – piano teacher. Breaking into the music scene only a few years ago, pianist Roy has already earned acclaim from jazz masters Kenny Barron and Jason Moran. With appearances on 20 albums as a sideman and co-leader, Roy's first album as a leader—titled
"Respect" and being released on Jazz Legacy Productions—includes such remarkable players as Reuben Rogers, Greg Hutchinson and special guest Roy Hargrove.
Roy arrived in New York in the Autumn of 2005 with a dream of pursuing his musical career. Shortly after that, he was invited to join the Dizzy Gillespie All Star Band on piano for an extended European tour consisting of 13 cities, as well as additional performances in Canada, Puerto Rico, and one week at the famed Blue Note in New York City. Since that time, he has been steadily working both with small groups as well as big bands in various venues and festivals around the world. In accompanying these famous groups, Roy has had the honor of sharing the stage with such jazz legends as Jimmy Heath, James Moody, Slide Hampton, Paquito D'Rivera, Roy Hargrove, Ron Carter, Lewis Nash and many more.
In Addition to performing, Roy loves to teach and over the past 14 years, Roy has been teaching all over the world, including the U.S., Europe, Japan, South America and Israel. Roy has been teaching mostly private students but he had also conducted master classes at the PS 361 School in New York City and Introduction to Jazz in more than 20 elementary schools in Jersey City. Roy also served as artist in residence in Imatra International Festival and taught at the famed Sibelius Academy in Helsinki Finland.
Some of the musical areas Roy covered with his students are -basic theory, various piano technique, sight reading, learning songs, improvisation, composition, among many others.
Having been awarded numerous honors, Roy earned the 31st Annual Downbeat Student Award for Outstanding Performance, the 2008 ASCAP Foundation Young Jazz Composer Award, the 2nd place honor for the Charlie Palmieri Memorial piano Competition, the Eubie Blake National Jazz Institute Award, the America-Israel Cultural Foundation Prize for Young Israeli Musicians and the 30th Annual Downbeat Student Award for Best Jazz Arrangement.
Roy holds a Master Degree from Manhattan School of Music and a Bachelor degree from Berklee College of Music.
Mandy – piano teacher. She has a distinguished and accomplished career as a soloist, chamber music artist, ballet accompanist and teacher. Her performing career has taken her to Taiwan, Sydney, Queensland, Boston and New York. Mandy came to the U.S. to furthered her education in 2008. Where, she received her Masters of Music degree in Piano Performance at the Boston University College of Fine Arts. Currently, Mandy is teaching and accompanying in New York, including New York Piano School,  Alvin Ailey and Marymount Manhattan
College of Fine Arts. In 2012, Mandy collaborated with Houston Ballet playing Prokofiev's "Cinderella" directed by Stanton Welch. In 2013, she accompanied the American Ballet Theater for "Swan Lake" and "Don Quixote" under director Kevin McKenzie.
Taiwanese- born Mandy began her career as a pianist at the age of eight, after being accepted into the prestigious Taipei Music Talent School. Mandy love performing, she knew she likes to play for and share her love for music with an audience. After moving to Australia, Mandy flourished as a distinguished young performer. She played regularly in Sydney Opera House and Town Hall in concert series including Mostly Mozart every year; the Monster Piano festival, where she played four hands with twenty-four pairs of four hands on the stage in the Sydney Opera House Concert Hall. At the age of fifteen, Mandy performed her first piano concerto with Strathfield Municiple Council Orchestra, playing the Saint-Saent piano concerto No. 2 in G minor. In the years that followed, Mandy played with the Sydney Youth Orchestra as one of the quarter finalists in the ABC National Young Artist Award, playing Dohnany's Piano Concerto "Variations on a Nursery Song."  Mandy made several appearances in radio program 2MBS-FM to inspire and share her performing experiences with other young Australian musicians.
Mandy believes that the power of music can make the world a better place. As a musician she believes that performing and teaching music is her way to give back to the community. Always looking for ways to give back to the world, Mandy's mission is to bring joy and serenity of music to as many people as possible.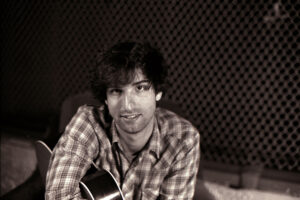 Jon Paul – guitar teacher, guitarist and songwriter.  Along with completing his degree from Berklee College of Music in Boston, MA, Jon Paul has also studied with some of the finest players and teachers alive today, including Adam Levy (Norah Jones, Tracy Chapman, Amos Lee) Tomo Fujita (John Mayer) and Rich Hinman (Sara Bareilles, Rosanne Cash) to name a few.  Jon Paul is an in demand performer and has toured extensively both nationally, and internationally.  For the past ten years Jon Paul has been sharing his passion for teaching others what he has learned, and what he continues to learn, from his long and loving journey with music.
"Although you can pinpoint the strumming of James Taylor, lyrics of Van Morrison and voice of Jack Johnson, Jon Paul is somehow very original." – Examiner.com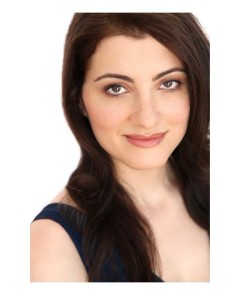 Valentina – voice, piano teacher, opera singer, and songwriter living in New York City.  After receiving her Masters in Vocal Performance from the Manhattan School of Music, she went on to sing leading roles on stages of Carnegie Hall, Glimmerglass Opera, Los Angeles Opera, San Francisco Opera, and Opera Saratoga, among others.  She attended the prestigious Merola Opera Program at San Francisco Opera, where she performed the role of Adina in The Elixir of Love.  From 2010-2012 she was a member of Los Angeles Opera's Domingo-Thornton Young Artist Program, where she sang roles such as Musetta in La Bohème, Gilda in Rigoletto, and Barbarina in The Marriage of Figaro, under the tutelage of Plácido Domingo and James Conlon.  In 2011 she toured the US with the Munich Symphony Orchestra under the baton of Philippe Entremont, singing the soprano solo in Mozart's Requiem.   Originally from Moscow, Russia, Valentina speaks fluent Russian and loves to sing works by Russian composers such as Rachmaninoff and Rimsky-Korsakov.  She also teaches Russian diction to singers who are performing works from the Russian classical music repertoire and want to improve their pronunciation of the text.  Before attending Manhattan School of Music, Valentina received her Bachelor of Arts from Barnard College, Columbia University, where she studied music, psychology and languages.   In 2009 she received a Sara Tucker Study Grant from the Richard Tucker Music Foundation, and was the second place winner of the Metropolitan Opera Eastern Region National Council Auditions.  Valentina is also a voice teacher, she works primarily with children and teens, teaching the fundamentals of vocal technique, reading music and ear-training, and works on improving students' rhythm, pitch, diction, musicality and expression. Valentina also teaches piano to beginners. She studied piano while at Columbia University. She wrote several compositions for piano and voice while at Manhattan School of Music. She loves working with young children and introducing them to the fundamentals of music through a playful approach. When she isn't teaching or performing in operas, Valentina spends her time writing folk songs on her guitar.            
Brittany – piano teacher, has performed solo and duet repertoire in the United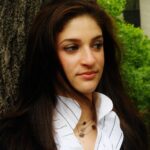 States, including venues such as Mixon Hall in Cleveland, Steinway Hall and Frederick Loewe Theatre in New York, and in the Vianden Castle in Luxembourg. She has participated in festivals such as the Beijing International Music Festival and Academy and the Vianden International Music Festival and School. Brittany received a Bachelor of Music degree in piano performance from the Cleveland Institute of Music, where she received scholarship. She then completed a Master of Music degree at New York University, where she studied with Eteri Andjaparidze. During her time of study there, Brittany received a Steinhardt Music Talent Scholarship. Brittany is also dedicated to teaching, and served as an adjunct piano faculty member at New York University. She has been working with students of various levels and ages. Brittany believes that music and technique go hand in hand, and she works on freedom and expression with students.
Alessia – piano teacher, started studying classical piano at the age of 5. She graduated from the Conservatory of Music "Santa Cecilia" in Rome, Italy in Piano Performance and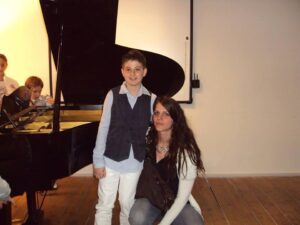 Composition. Later on  Alessia completed her Masters Degree in Piano Accompaniment. During the studies Alessia worked at multiple music theaters as a piano accompanist and a music coach preparing international singers for auditions, concerts and competitions. Also Alessia was working with different recording studios and theaters as a composer of original music.  Recently Alessia moved to New York City to work as a composer at a recording studio and collaborate with classical performers. Alessia has a great passion of teaching piano to students of different ages and levels!
Evgeni is a pianist, piano teacher, dedicated to the art musician, exploring all of its different perspectives. Born in Bulgaria he began studying piano at the age of 6 Evgeni graduated with honors from National School of Music (prof. Vesselin Stoyanov), Rousse, Bulgaria. He continued his piano studies in the United States in Brooklyn College – CUNY
with prof. Adam Kent.
Over the years Evgeni participated in many concerts and competitions. Among his achievements are: 1st prize in the competition "Young Musical Tallents" – Haverport, PA; 2nd prize and medal from the international competition "Rovere D`oro" – San Bartolomeo al Mare; 1st prize in duets in the international competition "Franz Schubert" – Rousse, Bulgaria; 2nd prize from the international competition – "Hopes, Talents, Masters" – Dobrich-Albena, Bulgaria where he also won a scholarship to study in the United States.
During the studies Evgeni participated in many master classes with different world-renowned professors such as: Atanas Kurtev (Bulgaria), Alla Halapsis (Greece), Maria Prinz (Austria), Tatyana Levitina (Russia), Tamara Poddubnaya (Russia), Mikhail Petukhov (Russia), Bozidar Noev (Bulgaria) and many others.
Evgeni performed many concerts throughout the United States and Europe. He played concerts in Bulgaria, Italy, Austria and New York City. Two years ago Evgeni played series of concerts at Steinway Hall and had appearance at Carnegie and Merkin Halls performing solo pieces and chamber music. Also Evgeni was a part of a unique 6 hands piano trio, playing pieces specially arranged for 6 hands on one piano.
Currently Evgeni is actively performing, teaching, accompanying recitals and auditions in the New York City area.  His personal approach to every musician and student, dedication, efforts and professionalism are the base for building a strong relationship and success in his work.
http://www.youtube.com/watch?v=Rr4vupdH-2w
http://www.youtube.com/watch?v=N5MlKrDRFmo
 Maria – piano teacher. Born in Tver, Russia, Maria started her musical education at the age of six. In 2004 she graduated with honors from the Tver College of
Music where she studied with Alexander Thomas and Galina Moiseeva. Maria holds a Master Degree in Piano Pedagogy, Accompaniment and Chamber Ensemble from Maimonides State Classical Academy where she studied with Alexander Strukhov and Professor Victor Derevyanko, a pupil of the famous G. Neuhaus. She also studied with Professor of Gnesin's Academy of Music Denis Burshtein and Emmanuil Monaszon, Honored Professor of the Russian Federation, teacher of more than 100 world-renowned pianists.
In 2008-2009 Maria participated in series of master classes on prevention of pianists' occupational disorders presented by Galina Minsker.
During her studies Maria has actively taught students of different ages and levels: She worked as an accompanist and a piano teacher at The Lev Vlasenko Music School in Moscow.
In 2001 Maria founded klezmer band "Shemesh". Since than, she was performing folk music in prestigious international music festivals: KlezFest in St. Petersburg (2003), KlezFest in Kiev (2004 – 2005), Dona-fest (Moscow,2005), Yiddish-fest (Moscow, 2006-2008), Klezmer Festival in Kharkov, Ukraine (2005). In 2005, she debuted at the Moscow Jewish "Shalom" Theater" with klezmer band "Dona".
In 2012 Maria joined the faculty of the Art of Piano Playing Music School.
Maria is an accomplished musician with highly professional approach, ambition and talent for training competitive successful students.
Grigory – piano and composition teacher. Originally from Siberia, Grigory is a New York-based composer of chamber, orchestral and electro-acoustic music and a pianist, actively performing classical, contemporary and improvisational music. Working mainly in a contemporary classical idiom, he tends to combine a new lyricism with modern rhythms in his compositions and
performances. Grigory`s music was recently featured at Tanglewood Music Center 2011 concerts where he was in residence as a Composition Fellow. Among his recent premieres was Romance for English horn and orchestra, performed by Hassan Anderson and The Juilliard Orchestra under the baton of Jeffrey Milarsky at Alice Tully Hall, Lincoln Center, 2011. His new collaborative work with choreography "this happens" premiered at Juilliard's Peter Jay Sharp Theater in December of 2010. As a pianist, Grigory frequently appears in NYC venues with solo and chamber performances and also distinguishes himself by an exceptional artistry in free improvisation. Most recently, he performed at Juilliard's Paul Hall, Tanglewood Music Center, International House NYC, California Summer Music and Space on White, NYC. Being at The Juilliard School, he was invited to perform as a guest artist by the distinguished pianist and lecturer David Dubal in his "The World of the Piano" program and had a privilege to play for the famous pianist and professor Jerome Lowentahl. Grigory  is a dedicated teacher of piano, composition and music theory. In his teaching method he uses a synthesis of the rich Russian traditions with his own unique experience and strives to develop in his students strong score reading skills, individual artistic behavior, right practice discipline, ability to analyze music and passion to learn about arts in a broader sense. Born in Novosibirsk (Siberia, Russia), Grigory Smirnov received the Master of Music degree in composition at The Juilliard School where he studied with one of America's most prominent composers Christopher Rouse. Before coming to the United States, he studied at the Novosibirsk State Conservatory, with the distinguished Siberian composer Yuri Yukechev and award-winning pianist Mikhail Mishchenko, and at the Novosibirsk Music College. During his studies in Russia, he was a prizewinner of the prestigious Prokofiev International Composition Competition and was involved into a number of collaborative projects internationally.
Elisabetta – piano and flute/recorder teacher. Born and raised in Rome, Italy, from an early age immersed herself in musical and classical education. She received her Classical Lyceum Diploma majoring in Music and English. In 1984 she attained her Masters Degree in Piano Performance & Music
Teaching. In 1992, Elisabetta received her Certification from the Italian Ministry of Foreign Affairs, a Teaching Diploma For Musical Education in all Italian schools abroad, in English speaking countries, having passed rigorous music and English exams after a minimum of five years teaching experience. Elisabetta is a talented music instructor who developed a long career teaching music in public and private schools in Rome, Italy. She provided music education instruction, encompassing practice of an instrument, history of music, and music theory. Elisabetta always maintained a sharp and consistent focus on correlating music to academics by developing students in discipline and concentration. For family reasons in 1999 Elisabetta moved to New York and joined her husband's printing firm. She served clients in academic, non-profit and corporate concern. During this time she still maintained private lessons and practice in New York City throughout these years to children and adults alike. Some of her students came from The Martha Graham School, Neighborhood Playhouse and opera singers. Elisabetta is a proficient piano and music theory teacher and is also very competent in teaching the recorder flute.