Art of Piano Playing Music School is inviting you to the Christmas recitals that will take place on: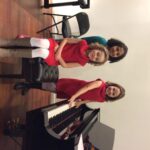 December 6 and December 13 at 6.00 pm. Both recitals will be held at Faust Harrison Pianos- a famous piano showroom with a large selection of high quality grand pianos, hybrid pianos and upright pianos for sale in New York City.
Faculty members, students of all ages and levels will be performing at the concerts. A reception and lots of fun is  guaranteed!
Please come to support us. FREE ADMISSION!      

Faust Harrison Pianos showroom is located at 207 West 58 Street New York NY.